Nepal Bhutan Tour 2024/2025
Exclusive tour: Nepal & Bhutan package combined. Flexibility in duration & accommodation for personalized experience. || Extermly Popular ||
---
Major Attractions Kathmandu cultural tour, Chitwan national park, Pokhara tour, Taktsang (Tiger's Nest) Monastery, Paro Valley, Thimphu and Dochu La Pass, Punakha Tour, Bumthang valley tour etc.
Transportation options Private Vehicle with air conditioning
Accommodation Upon your choice
The Nepal Bhutan Tour is a delightful travel package that combines two highly fulfilling destinations in Asia, making it a perfect choice for enthusiasts of culture and nature worldwide. Over a week, you will immerse yourself in the unparalleled heritage, diversity, history, and tradition of these regions, which are unlike any other in the world. Each day of this tour is a delightful experience, and you'll be welcomed with open arms. By venturing away from modernization and towards nature, Bhutan and Nepal provide a refreshing escape from the daily grind. Travelers can gain a better understanding of these Himalayan kingdoms by visiting major cities and settlements.
The Nepal Bhutan Tour starts in the lively city of Kathmandu. The Nepalese capital is no stranger to travelers. Once known as the prime destination for hippies in the 60's it has transformed into a backpackers paradise. With Patan and Bhaktapur included, travelers can explore seven UNESCO world heritage sites here. Nepal tour is recognized around the world for its fantastic value for money. From here you could add Pokhara for adventure, Chitwan for a wildlife safari, Lumbini for a pilgrimage, and many more. Nepal is a nation that has surprises on hold every time you are here. It couldn't be a better start for your wonderful multi-country tour of Nepal and Bhutan.
Bhutan composes the second half of this tour and is known as the destination for travelers in Asia. Landing straight in Paro you can't miss the beauty and uniqueness of this nation. Welcoming you with traditional dress and hospitality, prepare for a sublime time here. From the monuments of Thimphu to the landmarks of Punakha, every place and the road between them is a sublime experience. To cap it all lies the iconic monasteries and Dzongs that define Bhutan. Natural views and landscapes complete your Bhutan tour with happiness in your heart.
Nepal Bhutan tour aces the cultural and natural diversity of Asia perfectly. As a traveler, you will enjoy the bits and moments making up for a fantastic tour here.
Starting from September 1, 2023, Bhutan offers an exciting opportunity for global travelers with a 50% discount on SDF. The Sustainable Development Fee (SDF) has been reduced to just USD 100 per person per night instead of USD 200 until September 2027. Families traveling with kids aged 6 to 11 enjoy a 50% SDF discount, while those under 6 are exempt from SDF charges. Don't miss this chance to explore Bhutan's culture and landscapes.
Main Attractions
Complete tour of two stunning kingdoms in the Himalayas.
Immersion in local culture, hospitality, and culture exploration in a short time frame.
Access to refreshing trails and sub-tours that lead to majestic destinations.
Promise unique and memorable experiences for diverse types of travelers.
Availability of adventure options and easy customization of activities.
Authentic experiences of underrated travel destinations in South Asia.
Professionally planned itinerary featuring picturesque and sublime sites in a single tour of Bhutan and Nepal.
Recommended Nepal Bhutan Package Tours (Multi-countries Tour)-2024/2025
All the above itineraries are for samples/suggestions, if not suit/match this itinerary, we will modify them on your request. Any number of duration will be acceptable and provide a tailor-made trip for you. You could request for only one country tour or modify the number of nights in each country.
New Flight Schedule from Kathmandu to Bhutan(Paro); Updated: 03 July, 2023
DRUK AIRLINES
Bhutan Tour flight schedule for period 15th May to 31st December, 2023
Sector
Monday
Tuesday
Wednesday
Thursday
Friday
Saturday
Sunday
KTM-PBH
(Kathmandu – Paro, Bhutan)
9:10 – 10:30
9:10 – 10:30
9:10 – 10:30
9:10 – 10:30
9:10 – 10:30
9:10 – 10:30
9:10 – 10:30
PBH-KTM
(Paro – Kathmandu, Nepal)
7:10 – 08:10
7:10 – 08:10
7:10 – 08:10
7:10 – 08:10
7:10 – 8:30
7:10 – 8:10
7:10 – 8:10
 1st January to 31st January, 2024
| | | | | | | | |
| --- | --- | --- | --- | --- | --- | --- | --- |
| Sector | Monday | Tuesday | Wednesday | Thursday | Friday | Saturday | Sunday |
| KTM-PBH | 9:10 – 10:30 | 9:10 – 10:30 | – | – | 9:10 – 10:30 | – | – |
| PBH-KTM | 7:10 – 08:10 | 7:10 – 08:10 | – | – | 7:10 – 8:30 | – | – |
 1st February to 28th February, 2024
| | | | | | | | |
| --- | --- | --- | --- | --- | --- | --- | --- |
| Sector | Monday | Tuesday | Wednesday | Thursday | Friday | Saturday | Sunday |
| KTM-PBH | – | 9:40 – 11:05 | – | 9:40 – 11:05 | – | – | 9:40 – 11:05 |
| PBH-KTM | – | 7:40 – 08:40 | – | 7:40 – 08:40 | – | – | 7:40 – 08:40 |
 1st March to 31st March, 2024
| | | | | | | | |
| --- | --- | --- | --- | --- | --- | --- | --- |
| Sector | Monday | Tuesday | Wednesday | Thursday | Friday | Saturday | Sunday |
| KTM-PBH | 9:40 – 11:05 | 9:40 – 11:05 | – | 9:40 – 11:05 | 9:40 – 11:05 | 9:40 – 11:05 | 9:40 – 11:05 |
| PBH-KTM | 7:40 – 08:40 | 7:40 – 08:40 | – | 7:40 – 08:40 | 7:40 – 08:40 | 7:40 – 08:40 | 7:40 – 08:40 |
 1st April to 14th May, 2024
| | | | | | | | |
| --- | --- | --- | --- | --- | --- | --- | --- |
| Sector | Monday | Tuesday | Wednesday | Thursday | Friday | Saturday | Sunday |
| KTM-PBH | 9:40 – 11:05 | 9:40 – 11:05 | 9:40 – 11:05 | 9:40 – 11:05 | 9:40 – 11:05 | 9:40 – 11:05 | 9:40 – 11:05 |
| PBH-KTM | 7:40 – 08:40 | 7:40 – 08:40 | 7:40 – 08:40 | 7:40 – 08:40 | 7:40 – 08:40 | 7:40 – 08:40 | 7:40 – 08:40 |
14th May to June 2024
| | | | | | | | |
| --- | --- | --- | --- | --- | --- | --- | --- |
| Sector | Monday | Tuesday | Wednesday | Thursday | Friday | Saturday | Sunday |
| KTM-PBH | 9:10 – 10:30 | 9:10 – 10:30 | 9:10 – 10:30 | 9:10 – 10:30 | 9:10 – 10:30 | – | 9:10 – 10:30 |
| PBH-KTM | 7:10 – 08:10 | 7:10 – 08:10 | 7:10 – 08:10 | 7:10 – 08:10 | 7:10 – 08:10 | – | 7:10 – 08:10 |
Possible flight routes for Nepal and Bhutan combined tour

Kathmandu, Nepal (KTM) to Paro, Bhutan (PBH) – Weekly 5-7 flights (daily flights)
Bangkok, Thailand (BKK) to Paro, Bhutan (PBH) – Weekly 6-7 flights (daily flights)
New Delhi, India (DEL) to Paro, Bhutan (PBH) – Weekly 5-7 flights (daily flights)
Kolkata/Calcutta (CCU) to Paro, Bhutan (PBH) – Weekly 3 flights
Gaya, India (GAY) to Paro, Bhutan (PBH) – Weekly 0-1 flight
Bagdogra, India (IXB) to Paro, Bhutan (PBH) – Weekly 2/2 flights
Guwahati, India (GAU) to Paro, Bhutan (PBH) – Weekly 2-3 flight
Dhaka, Bangladesh (DAC) to Paro, Bhutan (PBH) – Weekly 2-3 flights
Singapore (SIN) to Paro, Bhutan (PBH) – Weekly 1-2 flights
Mumbai, India (BOM) to Paro, Bhutan (PBH) – flight starting soon
Kuala Lumpur, Malaysia (KUL) to Paro, Bhutan (PBH) – flight starting soon
Yangon, Myanmar (RGN) to Paro, Bhutan (PBH) – flight starting soon
Doha, Qatar (DIA) to Paro, Bhutan (PBH) – flight starting soon
Why do you love these Nations for a Vacation?
Each destination is unique here with fantastic experiences awaiting you.
Both Nepal and Bhutan have some of the liveliest and most welcoming people to chat and share stories.
Adventure opportunities with many side trips available in all these countries.
The abundance of UNESCO World Heritage sites accessible through brief drives.
Unique and delicious local cuisine with twists from both Tibetan and Indian cuisine for you to try.
Scenic views never leave you at times offering some of the most beautiful sunrise/sunset views of your life.
A peek into Nepalese and Bhutanese art of living where happiness is worth more than money and possessions.
Perfect fit for both luxury and budget travelers with different ways to enjoy your vacation.
Safe for traveling: Both Nepal and Bhutan are some of the safest places to travel for solo or family vacations.
A perfect blend of nature and culture. Visiting these nations you will have an exquisite experience of both in a single visit.
For art and photography lovers, there are few places more promising than these with magnificent monuments, unique architecture, centuries-old sculptures and paintings to enjoy, and more.
The views of the marvelous Himalayas to highlight your visit.
A close encounter with rare and majestic wildlife and birds if you aim for different safaris here.
A spiritual break from your everyday hassle into the peaceful and serene destinations of Nepal and Bhutan.
Festivals celebrated with the communities here give you a different look at humanity and love.
Positive vibe in the atmosphere as two of the most tourist-friendly nations await you.
The journey to reach the destination is always full of life, adventure, and some fantastic moments to cherish.
Choose your ideal destination in Nepal from the top-recommended places by travelers
Well, Nepal has too many destinations that we could suggest you not to miss during your visit. It is safe to say that this fantastic nation can nurture your every travel need may it be nature, culture, adventure, or peace. If we had to put it simply, the Kathmandu Valley is the heritage and cultural core, Pokhara city is the adventure capital, Lumbini is the spiritual getaway, and for wildlife and nature look no further than Chitwan. That's just to name a few. Below we have prepared a list alongside local guides, research team, and professional planners for the best destinations to choose from during your Nepal visit.
| | | | |
| --- | --- | --- | --- |
| Boudhanath Stupa, Kathmandu | Phewa Tal (Fewa Lake), Pokhara | Sarangkot, Pokhara | Swayambhunath Temple, Kathmandu |
| Poon Hill(Trek), Annapurna Region | Peace Temple, Pokhara | Pashupatinath Temple, Kathmandu | Durbar (Central) Square, Kathmandu |
| Chandragiri Hills, Kathmandu | Mount Everest by Helicopter/Flight, from Kathmandu | Begnas Lake, Pokhara | Golden Temple, Patan (Kathmandu Valley) |
| Patan Museum, Patan (Kathmandu Valley) | International Mountain Museum, Pokhara | Bhaktapur Durbar Square, Bhaktapur (Kathmandu Valley) | Narayani River, Chitwan |
| Kopan Monastery, Kathmandu Thamel | l, Kathmandu Nagarkot | t, near Kathmandu Valley | Patan Durbar Square, Patan (Kathmandu Valley) |
| Garden of Dreams, Kathmandu | Namo Buddha (Stupa), Panauti, near Kathmandu Chitwan | n National Park, Chitwan | Gupteswar Gupha, Pokhara |
| Trisuli River Rafting, between Kathmandu to Pokhara/chitwan | Devi's Fall, Pokhara | Bandipur, between Kathmandu &Pokhara | Nyatapola Temple, Bhaktapur, Kathmandu Valley |
| Changu Narayan, Bhaktapur, Kathmandu Valley | Maya Devi Temple, Lumbini (Birthplace of Lord Buddha) | Panauti, near Kathmandu Valley | Asan, Kathmandu |
Choose your ideal destination in Bhutan from the top-recommended trip by travelers
We all know by now that Bhutan is one of the most underrated destinations in the world. With so much to offer in this small country, you can select some of the best places for your preferences and travel needs. Most roads in Bhutan link back to Thimphu so it is easier to travel and add destinations to your itinerary as well. Here, we have listed some of the popular as well as hidden destinations for you to select from in your Bhutan holiday.
| | | | |
| --- | --- | --- | --- |
| Paro Taktsang, Paro Punakha | a Dzong, Punakha | Buddha Dordenma, Thimphu | Dochula Pass, Thimphu |
| Khamsum Yulley Namgyal Chorten, Punakha | Phobjikha Valley, Phobjikha | Chele La Pass, between the Haa and Paro valleys | Tashichho Dzong (Thimphu Dzong), Thimphu |
| Tango Buddhist Institute, Thimphu | Rinpung Dzong, Paro | Trongsa Dzong, Trongsa | Sangchhen Dorji Lhuendrup nunnery, Punakha Punakha |
| a Suspension Bridge, Punakha | Simtokha Dzong, Thimphu | Kyichu Lhakhang, Paro | Gangtey Monastery, Punakha (Wangdue Phodrang) |
| Bhutan Post Office Headquarters, Thimphu | Changangkha Lhakhang, Thimphu Thimphu | u Chorten (Memorial Chorten), Thimphu | Tachogang Lhakhang Bridge, Paro |
| Chimi Lhakhang Temple, Punakha | Paro River, Paro | Royal Textile Academy of Bhutan, Thimphu | Simply Bhutan Museum, Thimphu |
| Haa Valley, Haa | National Folk Heritage Museum, Thimphu | Kurje Lhakhang, Bumthang | Paro Airport Bird's Eye View Point, Paro |
| Wind Horse Ranch &Riding Club, Bumthang | National Museum, Paro | Jambay Lhakhang Temple, Bumthang | Jakar Dzong, Jakar, Bumthang |
​Inside view of Nepal and Bhutan for Travelers
Knowing what you can expect from any destination is important for travelers. With some Dos and Don'ts, you can decide better on the packages and period of your visit here. Here we will take you on a core tour of Bhutan and Nepal from a traveler's perspective.
Hospitality in these countries is second to none but be sure to enjoy responsibly during your visit. Religious nations with some traditional beliefs try minimizing the display of affection (kissing and more) to private.
Most places might be open for tourists, some might need permits/passes, and some might even be restricted for visitors. As a traveler, it is always best to know about these beforehand.
While the highways are particularly comfortable prepare for some bumpy stretches in the hilly destinations. Keep in mind that the drivers here are amazingly skilled and experienced so loosen up a bit.
Assure your visas on time. It is best to have them at least a few days earlier than in a tight schedule. Bhutan in particular might be somewhat strict in paperwork. So be sure and double-check everything.
You will have a large selection to choose from when it comes to food accommodation and transportation. Choose wisely as you will get what you paid for here.
Always choose a local guide to miss nothing. Both Nepal and Bhutan have some of the best-hidden destinations and a local guide will be worth your price for the best experiences.
It is best to try local foods towards the end of your visit. Follow the instructions in safaris or other adventure activities for your aid.
Preparation is the key to best experiencing these countries. Always spend as much time in discussion with your team or guides who will accompany you.
The weather might be your friend or foe here so prepare accordingly.
For family vacations always consult with the team for tips to get great deals on accommodation and transportation.
Be gentle and patient if things don't work out, Bhutanese and Nepalese are some of the most helpful people so don't be shy to ask for some help.
Keep your documents with you all the time. It's better to make some copies in case you lose yours.
Just allow us to help you with anything as our professional team is ready for your assistance at Everest Vacation.
Quick Contact
Error: Contact form not found.
Trip Reviews
---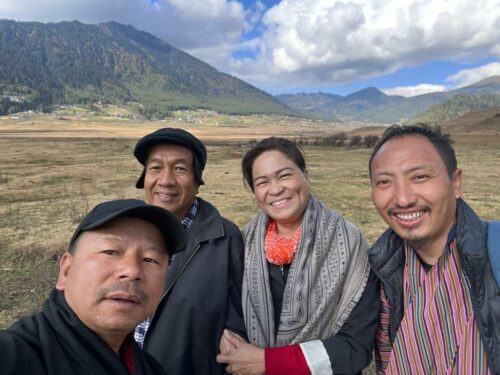 Travelling in November, 2023
Myrna & Johnny, Guam / Philippine
Wonderful and amazing Nepal and Bhutan trip
Namaste Mr. Netra, yes we are back home in the Philippines and now well rested. We were so tired after a long hike to the Tiger's nest and very proud of ourselves that we were able to go up and down that mountain. I can't wait to tell you about our wonderful and amazing Nepal and Bhutan trip to my friends in Guam. Will surely recommend your company to them. This was different from our previous trip, more on scenic, cultural, historical and adventure trip. What really made it really ☺☺☺☺☺☺ it different was the nice camaraderie with our drivers and tour guides and, most especially, you checking us we are doing after our day-to-day tour. Thank you for that. I really appreciate the nice gestures. You, your staff and Bhutan staff made this trip wonderful for us. We won't forget it. We are actually planning to bring our daughter and her husband to Mt. Everest trek maybe up to 3k meters, then explore the Eastern side of Bhutan, but this time coming from India and see Taj Majal and other interesting sites. Very thankful I came across your company on the internet since there were a lot of tour sites to choose from. Love all the nice and comfortable hotels we stayed in. Please extend my regards to Raj, Surad, Dipak,Rinchen and Ram. Sorry I forgot the name of our driver in Pokhara. Thank you all so much, I will let you know about our Himalayan trip plans and, if my friends will be interested in going to any Himalayan countries are you will recommend your company for sure. Namaste🙏
---
Travelling in October, 2023
Jastin, United States of America
Nepal-Bhutan combined tour experience as Surprisingly fantastic!
We described our Nepal-Bhutan combined tour experience as Surprisingly fantastic! We didn't expect our trips to be the most memorable. During tours, we immersed ourselves in local culture, and cultural exploration in a short time frame. Very amazed by the local's pleasing hospitality. Our visit to historic landmarks, Bhutan's monasteries, Nepal's natural wonders, and cultural tapestry created a remarkable experience. We highly recommend Everest Vacation to all.
---
Travelling in August 2023
Francois, USA
Journey Through Nepal, Bhutan, Sri Lanka
Our 14-day journey to the culturally and naturally rich nations of Sri Lanka, Nepal, and Bhutan was truly mesmerizing. We explore the ancient temples, beautifully carved architecture, delightful landmarks, and breathtaking natural landscapes. Thank you Netra and Everest Vacation team for a superb itinerary, unforgettable memories, and for taking care of us throughout the tour.
---
Travelling in March, 2023
Trinidad, Philippines
Highly recommend Everest Vacation for Nepal and Bhutan Tour
Our visit to Nepal was an awesome experience, made even better by our travel agent who arranged guided sightseeing tours for us. Our trip was organized by Everest Vacation for both Nepal and Bhutan, and everything went smoothly. We had fantastic private guided sightseeing tours in Kathmandu and an amazing hike to Nagarkot. Our tour guide, Dipak, was extremely helpful and knowledgeable. I highly recommend Everest Vacation to anyone looking for a great travel experience in Nepal and Bhutan.
---
Travelling in 2019
Ivanny, Los Angeles, USA
Amazing Bhutan
Bhutan was on my bucket list for a few years now. And I crossed it after having a sublime tour of Nepal and Bhutan. I have some mad respect for the drivers in these areas with narrow hill highways taking us to our next destination. My guides were friendly as well as knowledgeable in multiple languages too. The tour went straight and by the end, I wanted nothing less than a revisit here. I don't usually recommend the tour companies but Netra, Umesh, and Team deserve it for a superb tour.
---
FAQs (Frequently Ask Questions)
1. When is the best time to visit Nepal and Bhutan?
Situated in similar climatic regions, one can visit both countries in the same period as well. Accessible throughout the year, both countries have different experiences to offer throughout the year. However, we suggest the periods of spring and autumn for ease of travel and the best travel experience of Nepal and Bhutan. March to May (spring) and September to November (autumn) showcases clear skies and perfect traveling weather in these Himalayan nations.
2. What travel documents are needed for traveling in Nepal and Bhutan?
Your visa, passport, and permits (if required) are necessary to travel in these countries. Nepal implements VOA (visa on arrival) so you can apply for the documents after landing at the airport easily. However, for Bhutan, you have to apply for a group visa which you must have to enter the country as a part of the tour. Hence, apply beforehand for the Bhutanese visa and keep your passport and permits with you throughout the travel.
3. Can I travel independently in Nepal and Bhutan?
Traveling independently is common in Nepal. If you are not heading towards difficult destinations you can roam around solo here without any problem. However, due to severe restrictions with the Bhutanese policy of environmental tourism, you are not allowed to travel individually. i.e., you must have to pre-book a tour with a recognized tour provider and travel with their guide and team throughout the tour. So the answer is 'Yes' in Nepal but 'No' in Bhutan.
4. How expensive are the Nepal Bhutan tours?
Travel expense depends usually upon the way you travel. With Nepal and Bhutan, you will get the highest value of your money. Nepal is budget-friendly but you can spend more money if you want to as well. Bhutan might seem much expensive with USD 350 to USD 2000 per night rates. But remember it includes all your expenses on food, accommodation, private transportation, guides, permits and more. Having said that, the only real expense is the souvenirs you can buy while leaving this country.
5. How can I travel between Bhutan and Nepal?
Nepal is directly connected to Bhutan through a 75 to 90 minutes flight and the tentative flight cost is about USD 480 per person (round trip) and you must request to pre-book all your Bhutan flights. If you want to visit Bhutan first then you can get flights to Paro easily via Delhi, Bangkok, or other routes. You can also reach Bhutan by bus if you fancy that but it might be hectic and unnecessarily long through India.
6. What is the condition of food and drinking water in these Himalayan Countries?
Well, it might come as a surprise for you but for the most part of your journey, you can select from a large menu of Continental, Chinese, Indian, or any other cuisine. However, if you are here for the traditional Nepalese or Bhutanese cuisine, you are in for a treat. Nepal, in General, introduces its own blend inspired by Chinese and Indian Cuisine. With more delicacies of subcultural foods from Newari and Thakali Cuisine, your palate is sure to be blessed. Dal Bhat, Thakali Thali, Newari Khaja, Bara, Dhindo, and Momos are some of the popular local foods in Nepal.
Bhutan on the other hand has unique food with spices mostly arriving from Chinese Cuisine. If you love spicy then prepare yourself for a foodgasm here. Ema Datshi, Phaksha Paa, Jasha maru, Red rice, and Sura are some of the popular local Bhutanese foods for you to try.
7. How about accommodation in Bhutan and Nepal?
Nepal provides you a selection like no other countries in Asia for accommodation. You can spend any way from 10$ to 1000$ (USD) per night and get exactly what you paid for here. You can select from guesthouses to Hostels, lodges to star hotels for your stay. For Bhutan, the government has required the visitors to stay in at least 3-star hotels. You can also upgrade to four or five-star hotels costing anywhere between 200$ to 2000$ per night.
8. Where can I extend my vacation after the Nepal Bhutan tour?
Well, South Asia is full of unique and touristic areas for your visit after completion of your Bhutan Nepal tour. Tibet, Sri Lanka, Bangladesh, India, Myanmar, Thailand, Cambodia, and Vietnam are our top suggests.
9. How can I get a local SIM Card in Nepal and Bhutan?
It is easy and cheap as well to purchase a SIM card in both these countries. You must have a copy of your passport and a few photos for this purpose. After filling a form and submitting documents you can pay the fee which might be around a dollar or two. They will then handle you a short term valid SIM cards for the tour.
10. What if I want to change something on the itinerary?
Small changes that don't affect the overall itinerary are flexible and you can do it discussing with your guide. For big changes like adding a day or destination, it is best to tell us beforehand so our team can customize your itinerary accordingly. We also provide tailor-made tours hence just enlist your destinations and we will make a tour just for you.
11. What are the transportation facilities that I can expect for the Tour?
We will provide you with a private vehicle which fits your group size comfortably. Our vehicles are tuned up and regularly maintained for comfort and smoothness. Similarly, our experienced drivers are well knowledgeable about the routes you will take and its latest condition for your assurance.
12. Should I tip my driver/guide/porter?
Tipping is not mandatory but there will be no problem if you want to do so as a way of showing your appreciation.
13. Are there enough currency exchange, ATMs here?
It is best to exchange your currencies into local ones at the airport. The exchange rates might quite fluctuate quite a bit outside here. US dollars are the easiest and cheapest to exchange here. ATMs are available in the major cities and you'll not have to go far to find one. You can ask your guide to mention the days in the rural areas so you can take enough cash with you. The rates might vary from banks but most will accept your international card anyways.
14. Is it Safe to Travel to Nepal and Bhutan?
Yes, both Nepal and Bhutan are amongst the safest countries for travelers to be. Solo or female travelers have nothing to worry about while traveling here. There are enough help posts for your assistance and the people, in general, are much friendlier and helpful. As both these nations are religious and traditional, you can feel welcomed and safe as long as you travel responsibly.

Festival Tour Nepal and Bhutan
Festivals are lively and one that you shouldn't miss in both these countries. The sight of the community coming together to celebrate an occasion in their unique way is always one to experience. You will most definitely be invited to celebrate with them as well. With vibrant ornaments and clothing, dancing and singing, festive foods, and vibes, festivals here will amaze you for sure.
In Bhutan, Tshechu is by far the most significant and widely participated festival. It is celebrated at the community level as the religious festival of the Drukpa Lineage, Kagyu School of Tibetan Buddhism. The Cham dances are the major highlight of the festival with costumed masked dances performing major incidents following the great Guru Padmasambhava and other major Buddhist saints. Similarly, the Black Hat Dance and unfurling of the Thongdrel (Thangka) are other major activities. The whole country is lively with smiles all around celebrating Tshechu. Following the lunar calendar, the Tshechus dates are not constant. However, you can attend the Tshechus after the dates are set for the year. Paro and Thimphu host the most participated Tshechus in Bhutan. For more Bhutanese festival name and date, click here
Festival in Nepal falls all year long with some of the major ones being Dashain and Tihar. Similarly, Holi, Shivaratri, Janai Purnima, Buddha Jayanti, Lhosar, Chhath, Maghe Sankranti, and Teej are some other major festivals here. Like Bhutan these festival dates are set with the lunar calendar hence can vary from year to year. You can change the date of your visit to overlap some of these festivals to know the Nepalese culture, religion, and lifestyle better. Most of these festivals are celebrated with families and friends with great foods and drinks as well. So, plan accordingly to be in Nepal during these amazing festivals. For Nepalese festival names are here.
What makes Everest Vacation different?
Over a decade long experience in planning and organizing tours in Asia.
We are a dedicated team of professionals always seeking more ways to improve the quality of our services.
We do update our itinerary regularly for the best traveling experiences that you can enjoy.
Our guides are mostly local with good knowledge of local dialect and culture.
Our tours are customizable and flexible perfect to fulfill your travel needs.
We provide the best value of money with our services.
With us, you have to worry no more from the visas, permits, transport, and all the other necessities to the end of your vacation.
We are modern by practice but traditional by heart meaning 'Athithi Devo Bhawa' is still implemented for our clients.